Ngadjuri: Aboriginal people of the Mid North Region of South Australia
Authors: Fred Warrior, Fran Knight, Sue Anderson and Adele Pring.
Purchase: Cost $40 plus $17 postage (in Australia). To order a copy, download the order form.
Contains: 148 pages colour and black and white pictures and maps. Content includes description of country, Dreaming stories, language, traditional foods and life, archaeology, history from 1930s to today, interviews with Ngadjuri descendants, historical role play script and genealogies.
About the book cover
The painting of Ngadjuri men walking amongst the ridge-top trees, reproduced on the cover of the book, is by artist Robert Hannaford, of Riverton in the Mid North. The black and white photo is of Barney Waria who came to Adelaide in 1940 at age 77 to tell anthropologists about his culture in fear that his knowledge may be lost. He shared with Ronald Berndt and Charles Mountford extensive information about his language, customs, technology and lifestyle. His name Waria is a birth order name meaning second child, male.
About the authors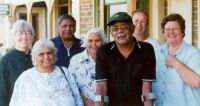 Fred Warrior was a Ngadjuri elder and great-grandson of Barney Warrior whose photograph appears on the cover of the book. Fran Knight worked as the teacher/librarian at Peterborough for twenty years and researched the Ngadjuri in her spare time and school holidays so that students could learn about the 'local' Aboriginal people. Sue Anderson, an archaeologist worked with Fred Warrior to research the archaeology and oral histories of Ngadjuri people. Adele Pring found more historical and cultural information from a range of sources and put the book together, editing and referencing.