Songs for Aboriginal Studies and Reconciliation
This book and CD is suitable for kindergarten through to adults. Includes 17 songs on CD and songbook with lyrics, guitar chords, melody line and lots of colour photos and teaching ideas. Download the order form here.
Some songs are sung by Buck, an Adnyamathanha man from the Flinders Ranges in South Australia and some are sung by the South Australian Public Primary Schools 'Festival of Music' Choir and other students. Some songs are about Reconciliation, some tell Dreaming stories, some about feelings and some for fun.
A complete listing of the song, downloads for piano music and backing tracks can be found here.
The seventeen mesmerizing songs written by Buck McKenzie in this splendid compilation are a celebration of urban and rural Aboriginal life and culture.

Each song has a tune which inspires singers, and many - such as Idnya the Native Cat and Magpie, Crow, and Eagle - carry stories filled with humour and linked to the Dreaming.

The delicious lyrics roll off the tongue, are quirky and illustrative, and yet contain a sense of home and belonging. The songs actually get under your skin, and you can't help but sing them again and again!

This CD and accompanying song book is a welcome addition to the Aboriginal musical repertoire for primary and secondary children. Its beauty of tone, with accompanying acoustic guitar and piano, support its authenticity.

It is a delight to listen to, sing along with, and offers choral opportunities that will inspire as well as challenge.

Penny Kazimierczak, Music Educator,
Department for Education and Child Development,South Australia
Additional Resources

The Adnyamathanha people: Aboriginal people of the Northern Flinders Range
A book for teachers and secondary school students that covers the culture and history of Adnyamathanha people and includes many suggestions for teaching activities as well as maps and black and white illustrations. Now out of print but available from various libraries.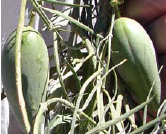 Adnyamathanha food and medicine plants
The young seeds and pod of the 'mayaka' creeper are edible, being a bit like green peas. The flower is also edible. The tuber and older fruit are edible when baked for a while in hot ashes. See pictures and descriptions of other plant foods and medicines in Adnyamathanha plant uses (pdf, 29 slide presentation, 3.9mb).
Terry Bradford, a friend of Buck McKenzie, has written a song 'McKenzie Highway' dedicated to Buck. It is performed by his band, the Texettes.